Logon Problems Using Internet Explorer

If you are having trouble logging on FBS or BA, check out this blog post to troubleshoot your issues and quickly get back on track with just a few easy changes.
The release of Internet Explorer 11 created quite a disruption for a few of our FBS and BA customers but these have all been fixed through series of updates. The vast majority of recent login problems have been related to Internet Explorer's 'Cookies' or 'Caches'. This blog will teach you how to properly clear Internet Explorer's 'cookies', 'caches', and other necessary web form information in just a few simple steps. Much of the information given in this post can also be used to resolve similar connection issues in Mozilla FireFox and Google Chrome!

1) Begin by closing ALL open copies of Internet Explorer.
2) Open your Control Panel (located on your start menu) and type "Internet Options" in the search bar (highlighted in yellow) and press search.

3)  After searching, click on the Internet Options listing and the following window should appear. Once you are ready to proceed, click the Delete button (highlighted in yellow).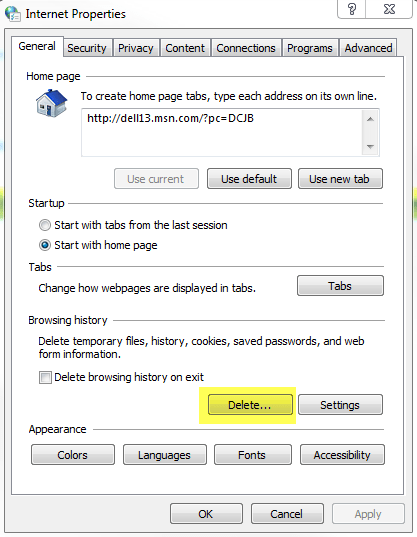 4) The following window should appear. Proceed to check/uncheck each box until your window matches the picture listed below. Once each box has been appropriately marked, it is now okay to press the Delete button located at the bottom of the window.